Who Lives In
The Land Of Wuz?

Select a Wuzzle.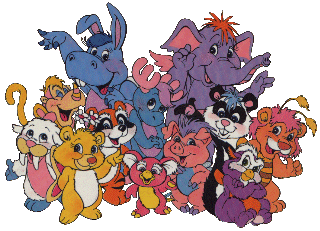 Bumblelion (part bumble bee and part lion) is the most courageous out of all the Wuzzles next to Rhinokey, though there's some situations were he'd rather not be. His house is a large bee hive and it has an Olympic style race track circling it. Out side his front door is a chin-up bar and a podium. He has high interests in Butterbear.

Rhinokey (part rhinoceros and part monkey) is a taxi cab driver and a full-time practical joker. He's got practical jokes from fake hands to whoopee cushions. He's bad at arithmetic and hates hostile audiences. At any moment, he always tries to get the last laugh, especially if it involves Hoppopotamus. He lives in a treehouse that has a banana peel-like roof and some other strange features. If you're dropping by to visit, I'd rather knock on the front door than using the doorbell. It might be booby-trapped with one of his jokes. I think it exploded the last time. Some of his friends call him Rhiny.

Eleroo (part elephant and part kangaroo) is all nerves, a little clumsy, and has been known to eat the restaurants out of business (almost.) He stores things in his pouch but sometimes has trouble looking for what he wants. He collects all sorts of stuff from pianoharps to telephotographs. If you want it, he's got it. That's if you're into very unusual stuff. He wishes that he could fly because his little wings aren't strong or big enough.

Butterbear (part butterfly and part bear) is the nature lover. She bakes all sorts of goodies and treats. She also puts canning jars out whenever there's a tropical fruit storm occurring. She'll go over the limit to help her friends or enemies. She's an excellent gardener too, she can even make cement grow! As far as I know, she's the only Wuzzle I've seen who can fly.

Moosel (part moose and part seal) has a very vivid imagination that gets him into trouble. He lives in a lighthouse (that sounds pretty normal) and owns a chugboat. His favourite food is liver-spinach sandwiches (yuck!) He usually has some good ideas to help out his friends.

Hoppopotamus (part hippopotamus and part rabbit) is the heaviest of all the wuzzles and loves to act and sing. Believe me, her singing will move the audience out of the town. She also tries her best to get a good compliment from Bumblelion, but is usually harassed by Rhinokey's jokes. Her friends call her Hoppo.

Tycoon (part tiger and part raccoon.) I guess Tycoon's appearance was going to be seen more often in future episodes after "What's Up Stox?" He's a business tycoon and was planning to be the richest Wuzzle in the Land of Wuz with a money tree that he wheeled and dealed for. Unfortunately, Crock had to get his hands on it. Apparently, Tycoon is the richest Wuzzle in Wuz. If you ever need financial help, this Wuzzle's the one to do it for you.

Woolrus (part lamb and part walrus.) enjoys playing music. Unfortunately when he plays, it influences the other Wuzzles. He discovered a piece of music written by Mr. Brahms which almost put all of Wuz to sleep.

Skowl (part skunk and part owl.) is a funny little Wuzzle. Although he doesn't mean to be, he always gets into trouble because he wasn't quite as smart as he thought he was.

Pandeaver (part panda and part beaver.) is a Wuzzle who is full of energy. He never likes to sit arround and do nothing, even on a hot and sticky day.

Piggypine (part pig and part porcupine.) is a Wuzzle who decides to do something and sticks right to it. She's also loves to eat but she gets a little worried of eating too much.

Koalakeet (part koala and part parakeet.) is a whiz at math but a bit slow at sports. Good thing the Wuzzles appointed him as the official scorekeeper for all the Wuzzle games. He always comes prepared with pens, paper, and a calculator.